Great news for WooCommerce users as the WordPress shopping cart giant has revealed a new dashboard feature is coming soon!
As reported in the official WooCommerce blog, WooCommerce is proud to announce a new 'Feature Plugin' for a comprehensive reporting and dashboards.
A feature plugin was introduced in WordPress 3.7 as a way for features to be developed for inclusion in WordPress core.  Think of it as a stepping stone or trial before being included in the base package. The plugin titled WooCommerce Admin is ready for the world so everyone can start benefiting from new reports, while WooCommerce continue to build features. This is similar to WooCommerce Product Blocks, which started as a feature plugin and will now be part of WooCommerce core.
Track Performance with Statistics, Analytics, and Reports
The WooCommerce Admin plugin features a central dashboard that, in time, will become the default in future versions of WooCommerce. Below are some of the highlights of what's in store.
Unique data points
Store owners can view charted data directly from the Dashboard via 14 different data points, and select any chart to load an associated report for deeper analysis.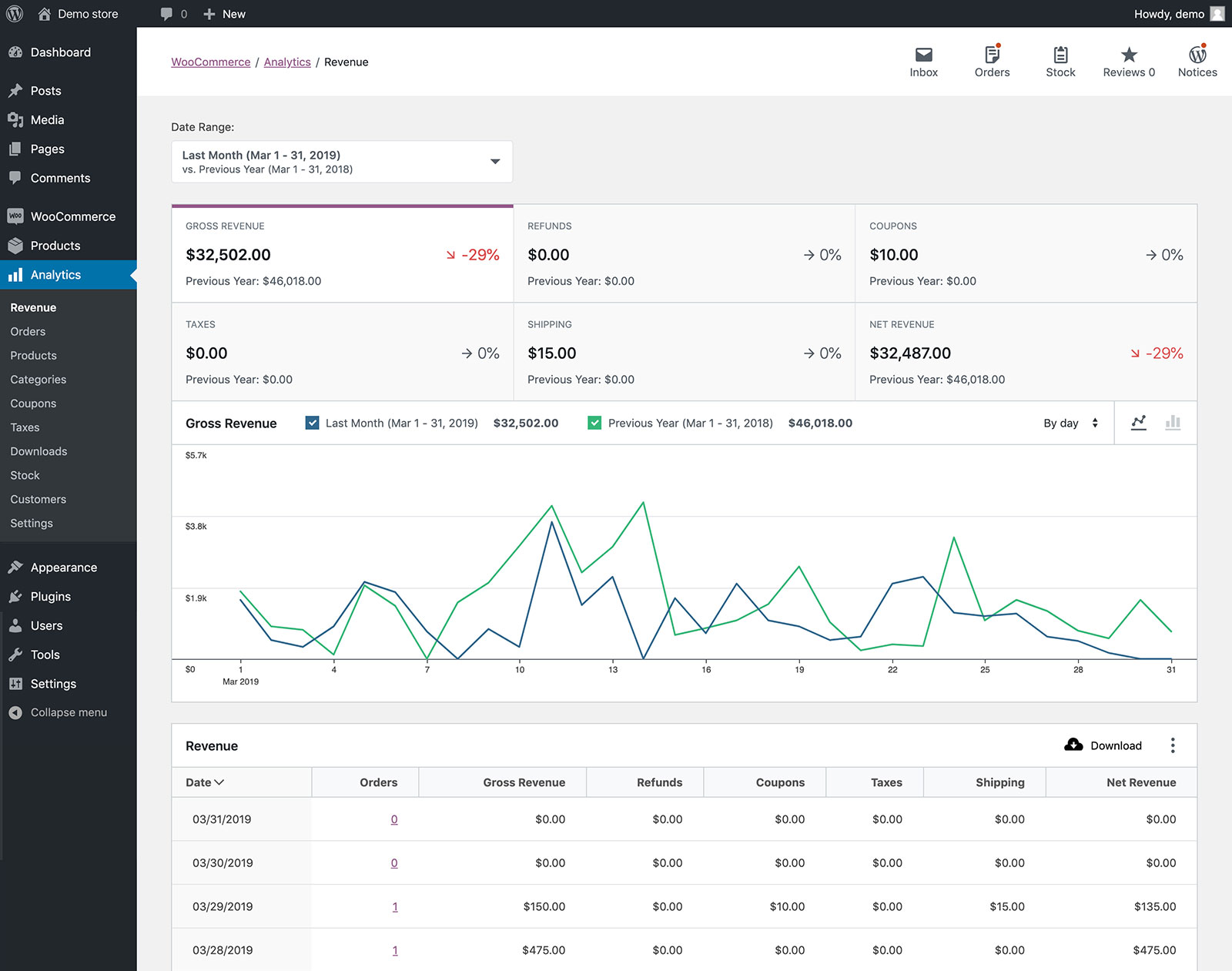 Quick Reporting with Date Intervals
Just like Shopify and Magento, WooCommerce store owners can also now select date interval for charts, depending on the date range selected.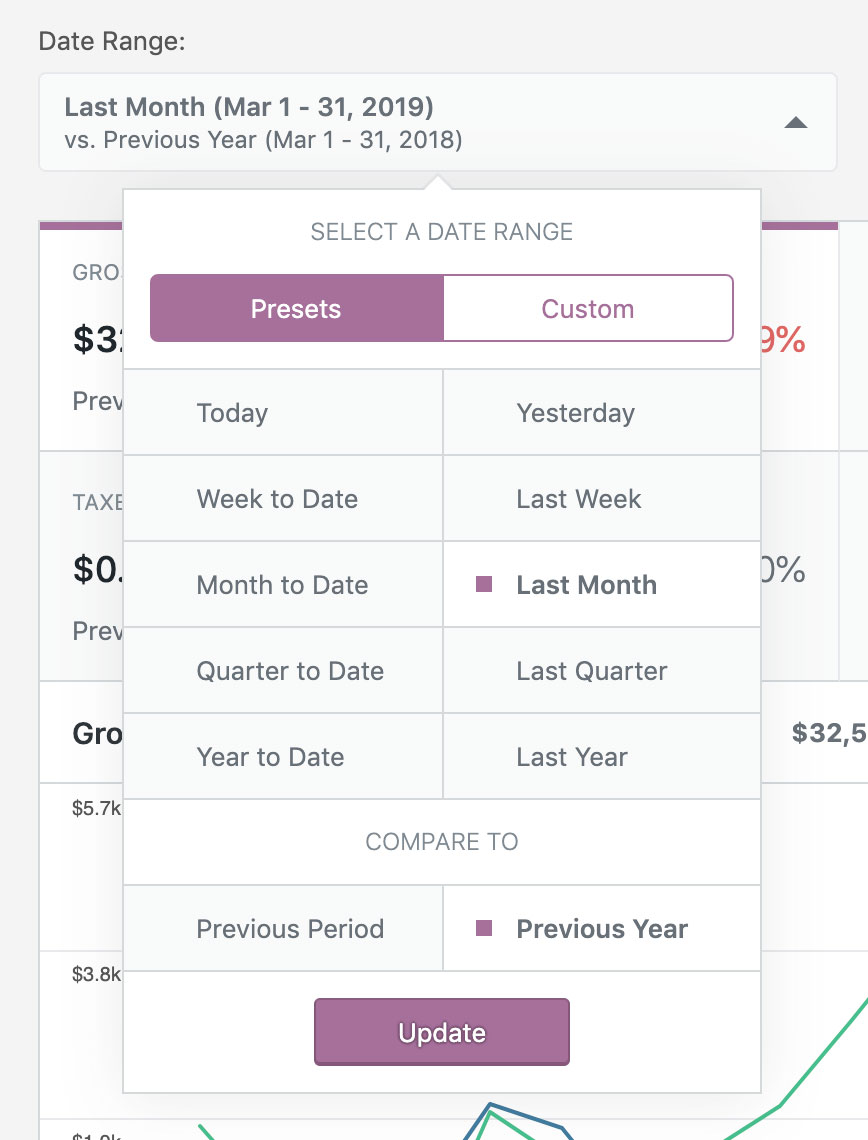 New and improved reports
WooCommerce have reworked existing reports to be more useful and introduced a new report for product variations to help store owners better monitor and understand their business.
They enable you to:
Quickly filter data
Compare date periods
Get easy access to key data points
Download reports in CSV format.
New reports available in WooCommerce Admin are:
Revenue Report
Provides a broad overview of the financial status of a store.
Reports gross revenue, refunds, the value of coupons used, taxes collected, shipping costs, and net revenue for a selected date range
Orders Report
Reports the total number of orders, net revenue, the average order value, and the average number of items per order for a selected date range
Product Report
Displays and compares sales information for a given time period by product
Stock Report
Displays the store's entire product catalog by products that are in stock, low stock, and out of stock.
Product Comparison Report
Performs highly customized analysis of sales data by comparing the performance of different product/s and variation/s over a specified date range.
Category Report
Filters by all categories, a single category, category comparison, viewing top categories by items sold, and top categories by net revenue.
Coupons Report
Compares multiple coupon codes to display how many orders used coupons and the total amount discounted.
Uses advanced filters to compare coupons, and a few preset filters to displays Top Coupons by Discounted Orders or Amount Discounted using preset filters
Customers Report
Displays Customer Data: Name, Sign Up date, Email, number of Orders, Lifetime Spend, Average Order Value, Last Purchase Date, and Country.
Provides a look into all customer data for a store, listing all registered and unregistered customers along with pertinent data about each customer such as email address, number of orders, lifetime spend, and average order value.
Allows searching the customer table by customer name, country, username, and email address.
Segments customer data with custom filters, e.g., number of orders, total spend, and average order value.
Tax Report
Compares tax report data by different tax codes
Compares multiple tax codes, and displays data on how much tax was collected for orders and shipping
Filters order data for a given time period by order status (i.e., pending and complete), product (orders with or without certain products), coupon codes (coupon codes were/were not used on orders), and new and returning customers.
Downloads Report
Allows filtering of Downloads by product, username, order number, and IP address
Activity Panel
WooCommerce are introducing a new Activity Panel that provides persistent store management tools to quickly:
Fulfill orders
Manage stock
Manage inventory
Manage store notifications.
It includes a new Inbox notification feature streamline notifications. The new Inbox cleans up all notifications relevant to managing a WooCommerce store, ensuring that store owners only get what's important and in one central location.