WordPress is one of the most popular content management systems, powering millions of websites across the internet. One of the reasons for its popularity is its flexibility, largely due to the extensive library of plugins available. These plugins enhance your website's functionality, from adding contact forms to boosting SEO. However, with great power comes great responsibility. Regularly updating your WordPress plugins is crucial for maintaining a secure and smoothly functioning website.
What Are WordPress Plugins?
WordPress plugins are pieces of software that can be added to your website to extend its functionality. They act like apps for your site, offering a wide range of features and capabilities, often without requiring you to write a single line of code. WordPress offers an extensive library of plugins, with close to 60,000 free plugins available through the WordPress plugin repository. Additionally, thousands of premium plugins can be purchased online, offering even more specialised functionalities for your website. These plugins cover a wide range of purposes, from improving SEO and enhancing security to adding eCommerce capabilities or integrating with social media.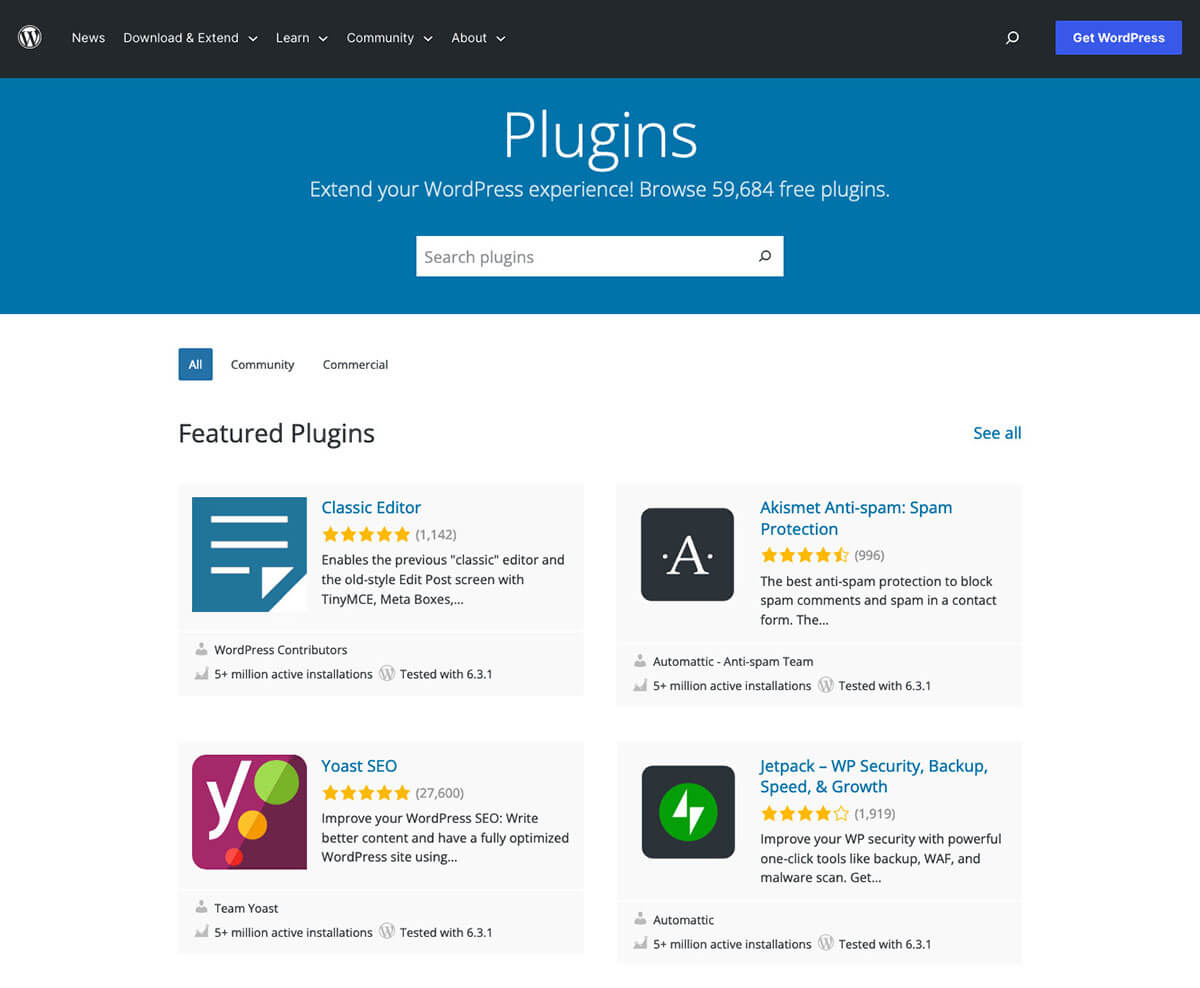 WordPress Plugin Repository
Why Your WordPress Website Uses Plugins
Plugins are the backbone of WordPress websites. They empower you to add features and functionalities that might not be available in the core WordPress software. For instance, you can integrate social media sharing buttons, optimise your website's performance, and even set up an online store, all through the judicious use of plugins.
Why Plugins Need to Be Updated
Just like any software, WordPress plugins need regular updates. These updates serve various purposes, but two critical ones stand out: security and performance. Updates often include fixes for known vulnerabilities, making your site less susceptible to hacking attempts. They also incorporate enhancements and bug fixes that can improve your website's performance and compatibility.

Available WordPress Plugin Update Notice
Things to Consider Before Updating
Before clicking that "Update" button, it's essential to consider a few factors. Not all updates are created equal. Some may require adjustments to your theme or other plugins, so it's wise to back up your site before proceeding. Additionally, you should verify that the plugin is compatible with your current version of WordPress.
How Often You Should Update Your WordPress Plugins
The frequency of updates depends on several factors. Generally, you should check for updates weekly, if not more often. This ensures that you're promptly addressing security vulnerabilities and benefiting from performance improvements. However, always exercise caution and test updates on a staging site first, especially if your website is mission-critical.
In the world of WordPress, plugins are your allies. They allow you to expand your website's capabilities in ways you might never have imagined. Yet, their effectiveness depends on how well they're maintained. Regularly updating your plugins is a small investment that pays substantial dividends in terms of security, performance, and functionality.
Maintaining a WordPress website involves more than just updating plugins. It requires consistent attention to security, performance, and user experience. If you're looking for professional assistance in managing your WordPress site and ensuring it stays in peak condition, contact us today. Our team of experts specialises in website maintenance and custom WordPress development, and we're here to help you make the most of your online presence.