With technology growing at a rapid rate, an abundance of applications is now available to assist with almost any task. Sole traders and SME, through to large corporations can benefit from process automation and a platform that's leading the charge in this field is Zapier.
What is Zapier?
Zapier is an API service which acts as a middle-man between systems. It's essentially a tool for connecting the different apps you use and allow for data to be transmitted.
Most modern web applications have an API – also known as an Application Program Interface. Third party developers can use these API's to upload information, download data and hook into an app.
How does Zapier Work?
Zapier has over 1000+ apps connected to their service and allow you to create workflow processes, each called a 'Zap'.
The beauty of Zapier is for each app, there are a couple of triggers and actions which you can create. You can even have one trigger perform multiple actions.
Some of the most popular apps that integrate with Zapier include Gmail, Dropbox, Slack, Mailchimp, Shopify, Xero, PayPal, Quickbooks, Salesforce, Magento, WooCommerce and more.
Example of Zapier
Let's imagine a scenario where you want to automatically download any email attachments sent to your Gmail account to a specific Dropbox folder. Zapier allows you to create a trigger, in this case you receiving an email. Zapier allows you to create multiple actions, in this case we want a copy of the attachment (PDF/Image etc) saved to a dropbox folder which we specify. We can also create another action to notify us in Slack that a new attachment has been saved to Dropbox.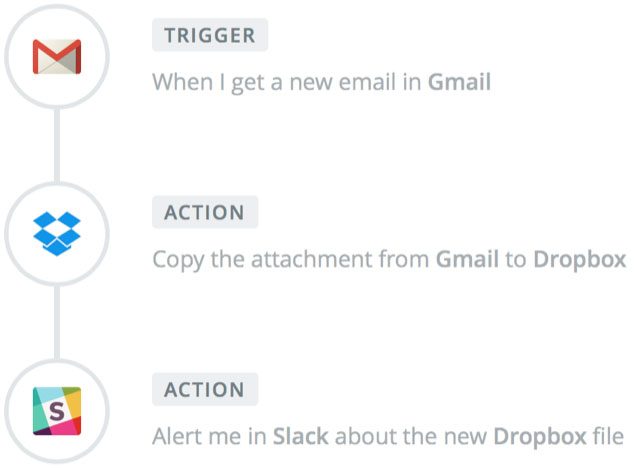 Zapier can also be setup to handle other time saving actions such as populating marketing lists, accounting lists, exporting orders, syncing inventory lists and more; the skies the limit.
Benefits of using Zapier for your business
Save Time
The biggest factor in automating processes is to save time. Whether you're managing an online store, or need to handle leads captured through your website; there are likely dozens of these little tasks that you do everyday that could be automated. Combined, they can save quite a lot of time.
Consistency
Let's face it, people aren't perfect. We often forget things and make mistakes. Computers are more consistent with processing tasks reliably. From saving important documents, to triggering emails and adding data to accounting and marketing systems; a 'Zap' will ensure the data you need is handled correctly. Any time you have a specific protocol or formula that needs to be followed when moving information between different apps, you should consider using Zapier.
Summary
More businesses than ever are moving away from single software packages to smaller specific apps. With this movement; there's a need for tools to link them together. Zapier is a powerful tool for connecting these applications. If you're going to use three or four different tools, you want them to play nice and implementing a 'Zap' can be the most cost effective and reliable solution for this.
Streamline your day to day business processes and save time on manually processing recurring tasks.
Need to speak to a web developer about implementing business process automation? Contact us online or call our brisbane office on 07 3444 0045.