At OnePoint, we believe that the formula for effective induction training consists of intuitive design, effective visual appeal, and an appropriate course for our clients' infrastructure. The process kicks off with the instructional designer working closely with the client to understand the business philosophy, values, and daily operations. When this has been established, an aligned product can be created.
Every employer is responsible for health and safety of their workers and Online Induction Systems are fast becoming the norm for companies that look to streamline their induction process. Gone are the days of pen and paper and hours spent sitting in a room to run through a site induction. With a cloud based online induction system, employers can now give employees and contractors unique access to run through site inductions in their own time and from anywhere there is an internet connection.
Online inductions enable employers to easily and cost-effectively train their staff to ensure they arrive on site fully inducted – ready to start work and stay safe.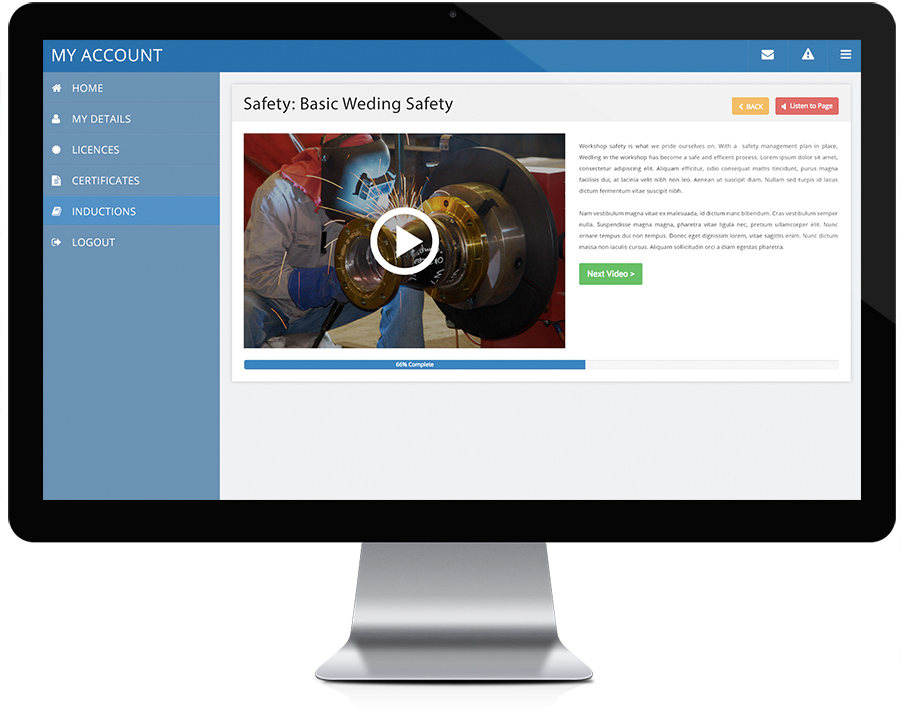 6 Key Benefits Of Online Induction Systems
Reduce Operation Costs.
With employees completing induction training on desktop computers, or even their own mobile devices, companies no longer need resources associated with inductions such as room space, printed material, and facilitators.
Deliver a clear, consistent message.
Delivering induction training online gives an opportunity to create the best impression, consistently.
Put your learners in control.
Learners can work through content at their own pace, repeat parts if necessary, and take as long as they need to complete the training.
Achieve 100% Compliance.
An online induction will enable you to track employee compliance without a paper trail. Online tracking ensures learners repeat any necessary content until compliance is achieved.
Printable Induction Certificates
At the conclusion of the online induction course, successful users can receive a printable completion certificate.
Reduced Risk Factors
Online Inductions overcome many of the risks that come bundled with traditional training. A common example is employers can be sure that new employees have been fully informed about safety precautions before using potentially dangerous equipment or materials.
Online Induction Systems offer many benefits including time, money, productivity and convenience improvements. By choosing to induct online you will be able to train and test your employees, contractors or visitors about health and safety requirements the easy and cost-effective way. Talk to a OnePoint team member about how we can streamline your induction system today on (07) 3444 0045 or contact us online here.