If you're looking to launch an online store, you've more than likely come across Stripe and Square. While there's a bunch of great payment gateways available, including Authorize.Net, PayPal and eWay; Stripe and Square are the two leading the charge in 2018.
They're both giants in the payment industry and have transformed the way people pay for things and the way merchants accept payments.
Most importantly, both Stripe and Square offer a huge range of commerce tools that make it easy for merchants to run their businesses. With the various APIs and integration options available, there are almost limitless possibilities for creating a custom system with everything from invoicing to email marketing and more.
So what would be best for your online store? Well, let's compare the two!
Stripe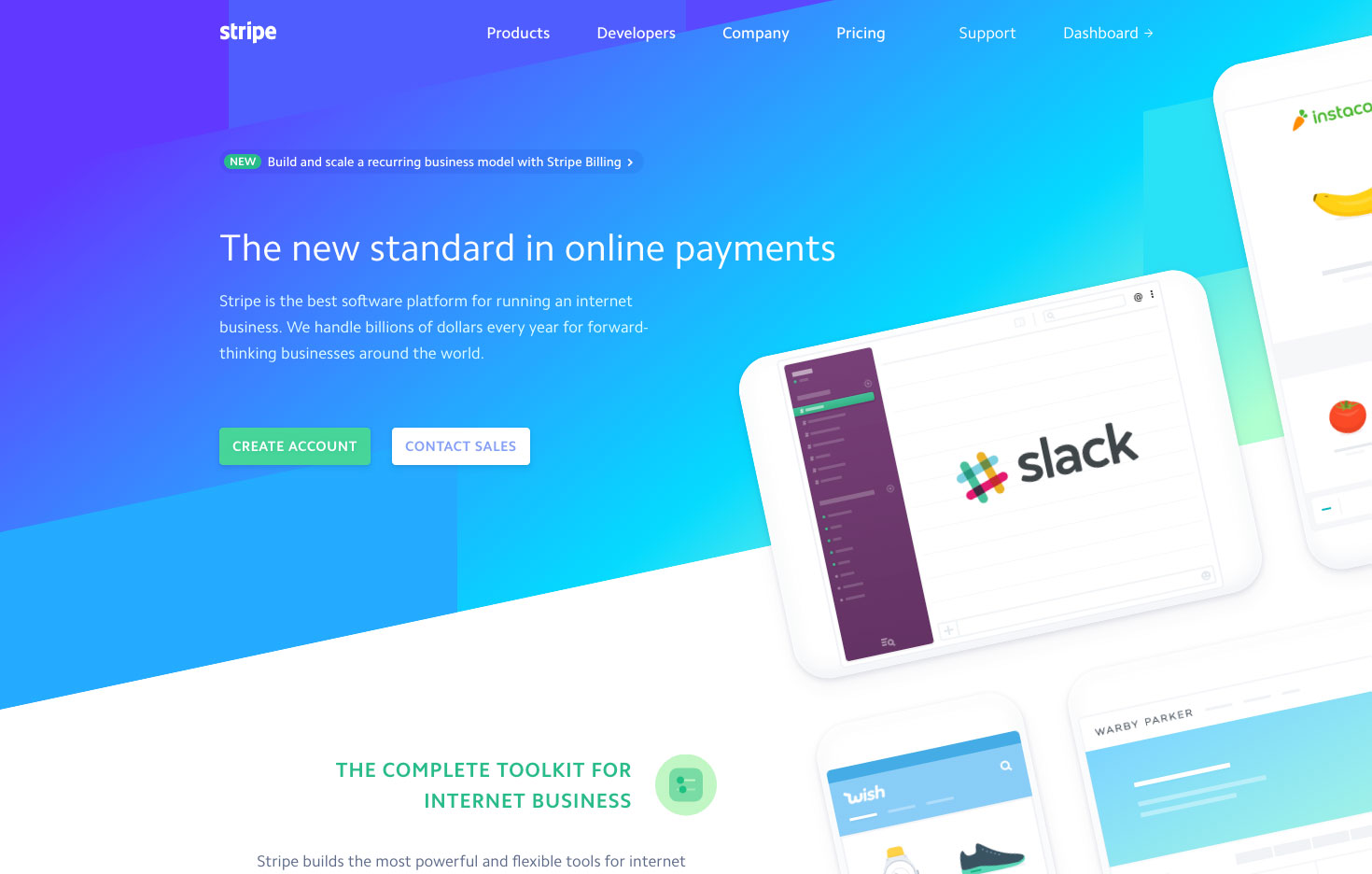 Stripe has earned its name as a developer-friendly option, but you can also integrate with a host of third-party apps to accept payments with ease. The company focuses on internet and mobile eCommerce, but developers have extended Square's power to include mobile payments and more.
eCommerce Integration & Plugins:  In addition to integrations with major eCommerce software providers, Stripe have created an assortment of plug-ins for businesses operating on WordPress, Shopify, Bigcommerce, Magento, and other websites.
Developer Tools: Stripe is much loved by developers for its flexibility, its extensive documentation and its support for multiple programming languages. The Stripe APIs also allow you to create invoices and subscriptions along with many other great features.
Stripe Elements: Need to build an entirely custom form? You can with Stripe Elements. With pre-build components ready to integrate its a developers dream. Stripe Checkout generates a pre-built form you can just drop into the site with a few lines of JavaScript. With Stripe, it's very easy to accept payments on a desktop computer, a mobile site, or within a mobile app. Stripe even supports 1-touch payments on mobile.
Stripe Sigma: Stripe offers your standard user dashboard with some general sales reports at no charge. But if your business is heavily data-driven, that's where Stripe's Sigma comes into play. With custom reporting, it is the perfect solution for you. You can generate reports based on SQL queries.
Stripe's additional tools include
Stripe Billing: Stripe's subscription tools are industry-leading, with the ability to charge clients based on a recurring quantity or metered usage, to set free trial periods, and much more. You can also create invoices or set up recurring billing tools. However, new businesses will pay a small additional charge per transaction to use these tools.
Stripe Radar: Stripe makes a big deal of its fraud monitoring tools, bundled under the very-apt name Radar. The system uses machine learning and a host of criteria to analyze every transaction and decide whether it is legitimate or possibly fraudulent. Radar also lets merchants set custom criteria for rejecting transactions and review flagged transactions to decide whether to accept or reject them.
Marketplace Tools: Merchants who want to operate a marketplace can use Stripe to build the platform. Stripe's marketplace tools are grouped under "Stripe Connect."
Multiple Currency Displays & Dynamic Currency Conversion: These tools are a major reason why Stripe is such a powerful tool for global businesses. Whereas Stripe will automatically convert transactions to USD (usually at the cost of a fee to the cardholder), Stripe will allow you to display prices in local currencies based on where the customer is located. Stripe then automatically converts them for the merchant, charging a small markup over the exchange rate. This makes a business more appealing to international customers.
Stripe charge no monthly fee for their service, instead taking a transaction fee of 1.75% + $0.30. The lack of a set monthly fee means you won't be losing money if you're not selling, and this flexible model seems to be becoming increasingly prevalent across providers.
When it comes to international sales, however, Stripe charge a 2.9% conversion fee per transaction.
Stripe charge a rate of $15 per charge-back, which is less than PayPal.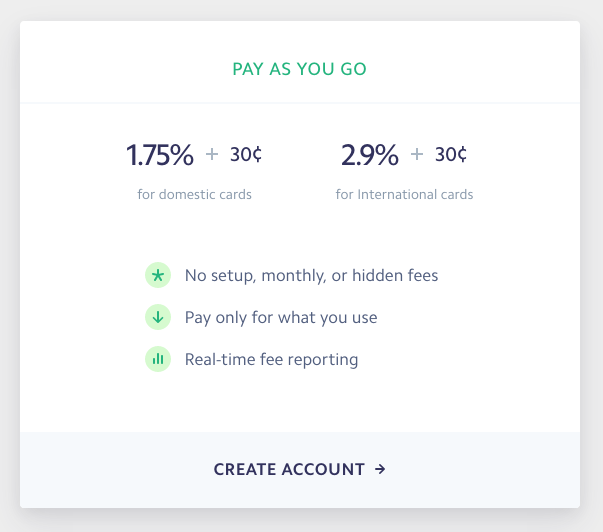 Square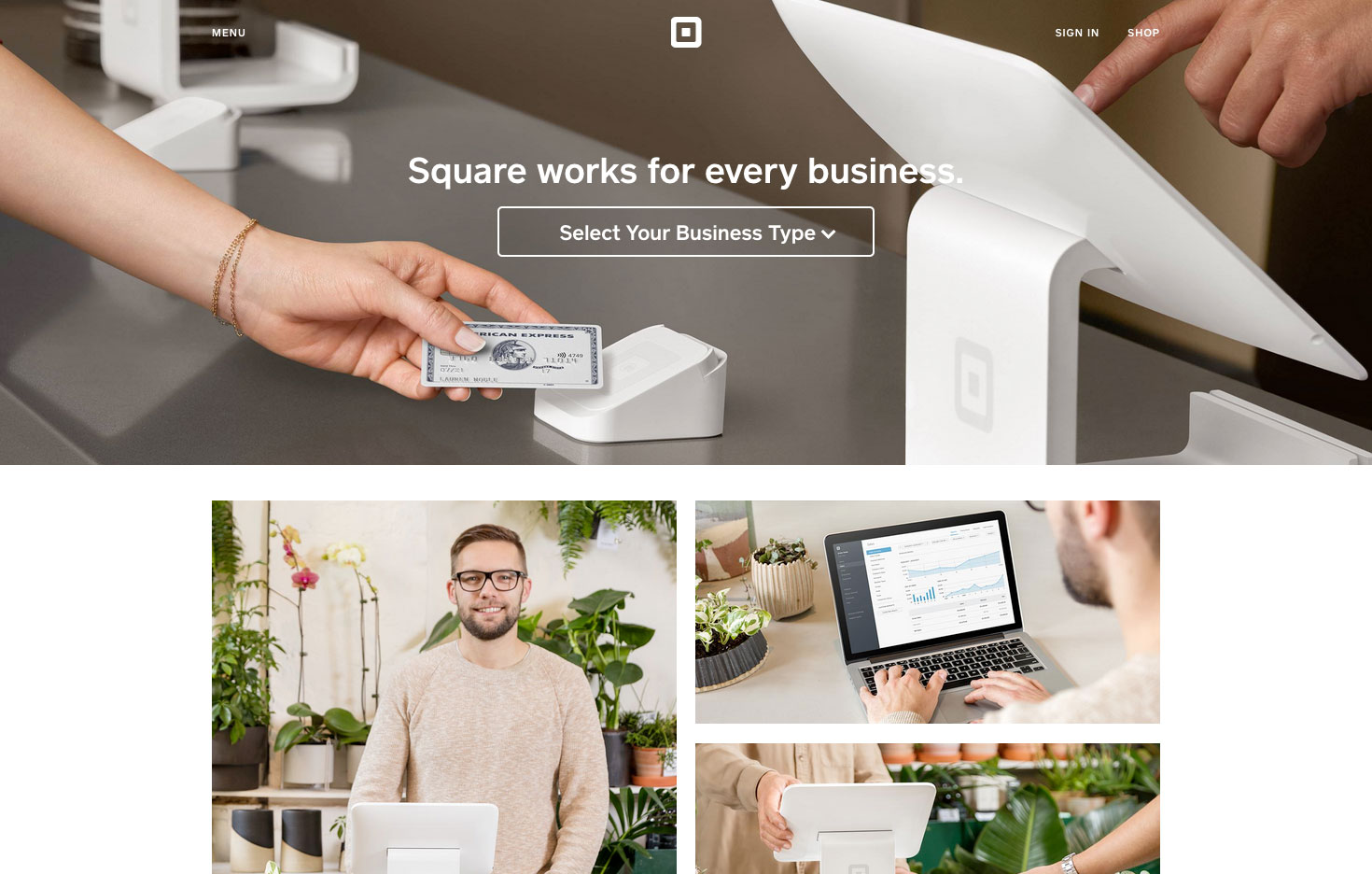 Square first stood out among mobile competitors by offering a free webstore to all merchants. Since then, the it has expanded considerably to include eCommerce integration as well as developer tools.
eCommerce Integration: When we first look at Square, we can see that it conveniently groups everything by a merchant's level of technical expertise. Integrating with platforms such as WooCommerce, Shopify and BigCommerce become a very straight forward process and even the most tech illiterate can easily follow the documentation and start accepting payments in no time.
Online Store: Square also offers free online store, but it is very basic. There are only four templates to choose from, and you can only customize portions of the site (such as filling in your business name and address in the footer) in addition to loading your products. This is not a good solution for anyone with a large and diverse inventory, especially if your shipping costs vary significantly or if you're looking for a particular visual aesthetic
Developer Tools: Square's developer tools make it possible for you to create almost any custom integration you could need. For eCommerce, there are two APIs, Checkout and Transactions.  Square Checkout is a pre-made form that can be dropped into a site with minimal fuss. Using Checkout means merchants are eligible for some perks, like next-day deposits and charge-back protection. The Transaction API, combined with Square's payment form, is more customizable. Square has other APIs to handle other aspects of commerce, but you'll find that Square doesn't readily support in-app payments.
Dashboard Reporting: Square's reporting tools are fairly advanced, especially for a company that started as an mPOS. They're very popular with merchants who want to know what's selling and how much they're processing and need standard business data. The dashboard is actually quite intuitive, as well. However, Square doesn't allow for a huge amount of customization in reports unless you get into the Reporting API, which allows you to create real-time notifications using webhooks.
Additionally, Square offers the following tools:
Advanced Inventory: Square will reconcile online and in-person sales and give you an up-to-date count on your inventory, including low-stock alerts when you hit a specified threshold. Plus, you can bulk upload products and generate SKUs, create variants, and more.
Fraud Protection Tools: Square uses machine learning to analyze transactions and identify and flag possible fraudulent transactions.
Customer Database: Save customers' contact information and build a database with records of their purchases so that you can market to them later.
Invoicing: Create invoices from within the Square dashboard or from within the mPOS app. Square also allows customers to store their cards to automatically pay invoices (using this Card on File will cost you a bit more). You can also create recurring invoices. However, if you want extensive subscription management tools, you'll need an integration with a service like Chargify, which will add to your costs.
Free Virtual Terminal: If you want to process payments over the phone or you don't have access to the mPOS, you can use Square's virtual terminal. Transactions will be processed at the manual entry rate (3.5% + $0.15) rather than the eCommerce rate, but the solution is PCI compliant and is designed for regular use.
Square's pricing really depends on how you're paying. Just like Stripe, there are no monthly fees, but you'll find transaction costs which aren't as flexible at scale as other providers.
Online payments are 2.9% + $0.30, which is a fairly standard starting point.

What should my Online Store use?
| Stripe | VS | Square |
| --- | --- | --- |
| Yes | Products and Services | Yes |
| Yes | Compatible Hardware | Yes |
| Yes | Fees and Rates | Yes |
| Yes | Sales and Advertising Transparency | Yes |
| Yes | Customer Service and Technical Support | Yes |
| Yes | Negative Reviews and Complaints | Yes |
| Yes | Positive Reviews and Testimonials | Yes |
| Tie | Final Verdict |  Tie |
Stripe is a great option for a range of use cases and the API allows for a well customized ecommerce process. Stripe is not great for companies looking to make offline sales though. Stripe is a very powerful solution to many business needs and could be a very good option for any new business starting up and wanting an infrastructure in which to scale.
Square provides similar services to Stripe but is a little less cost effective at scale. Where Square excels is in offline sales – it's POS software is a powerful tool. Square is a very good option for a small business which has an offline and online component, so all payment processing can be centralized.
Ultimately, it depends on the needs of your business.
If you need to speak to an expert about getting professional eCommerce development for your company, contact web design experts today. Call us on (07) 3444 0045.