Sell products and services online with the help of Brisbane best WooCommerce developers.
OnePoint provide professional WooCommerce development services for clients across Australia who look for a robust, open source eCommerce solution that's tailored exactly to their needs.
Our team of eCommerce developers can extend WordPress websites into powerful online stores and can provide a one-stop solution for your needs. We can assist with everything from custom theme creation to eCommerce search engine optimisation and more.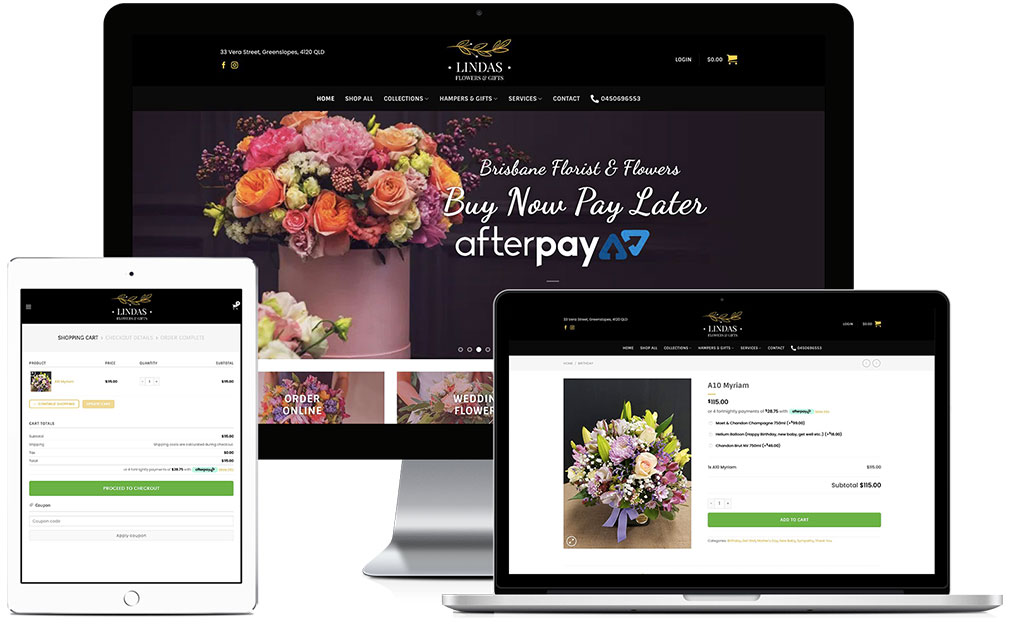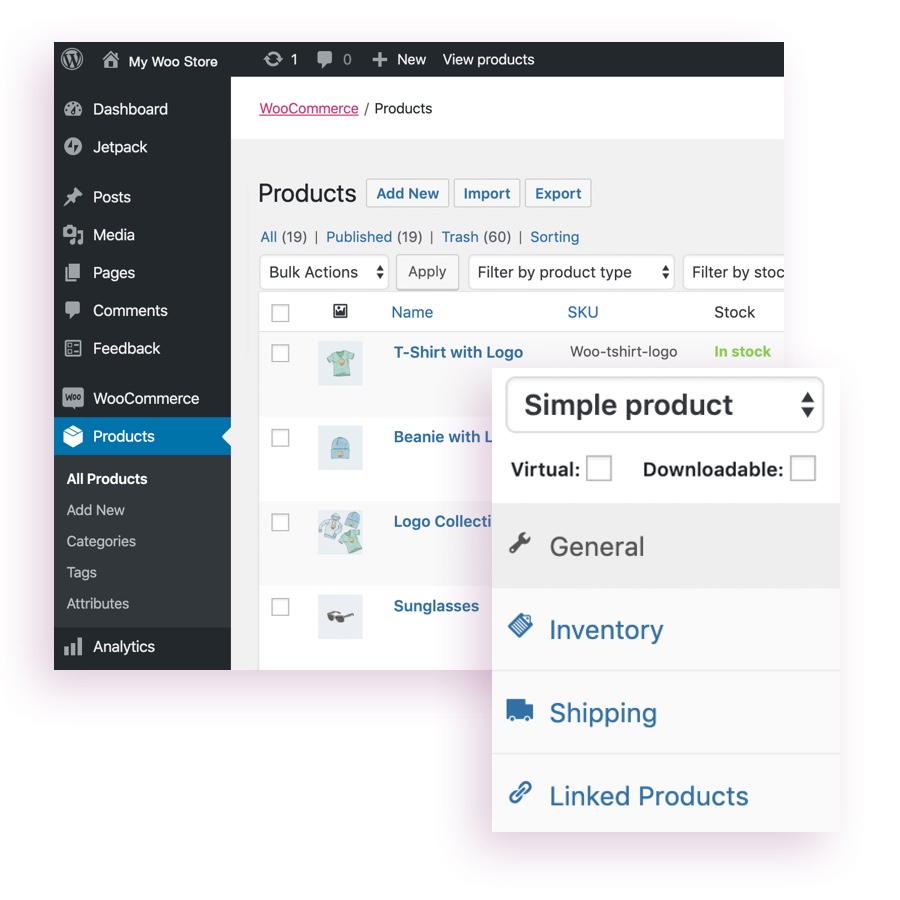 Everything you need to create powerful, tailored shopping expereinces online.
WooCommerce is a customisable, open-source eCommerce platform built on WordPress and its greatest strength is its extensibility. There's very little we can't build with WooCommerce and given enough time and resources it can be finely tailored to even your store's most niche feature.
The beauty of this popular eCommerce platform is its sheer flexibility. We've helped Australian businesses create eCommerce websites that sell everything from retail goods and services, to appointment bookings, accommodation and even membership subscriptions.
Third Party Shipping Integrations
Need your customers to obtain real time calculated shipping rates? OnePoint can help integrate your favourite shipping providers with WooCommerce.
Just some of the popular shipping providers we can integrate with WooCommerce include Australia Post, TNT, Sendle, DHL, Couriers Please, Transdirect and FedX.
Accept Secure Payments Online
WooCommerce comes bundled with the ability to accept major credit cards, bank transfers (BACS), checks, and cash on delivery. Beyond the basics, we can help integrate your payment gateway of choice.  Popular payment gateways we integrate include Stripe, eWay, PayPal, Square, Apple Pay, Google Pay and Splitit, Afterpay and Zip buy not pay later providers.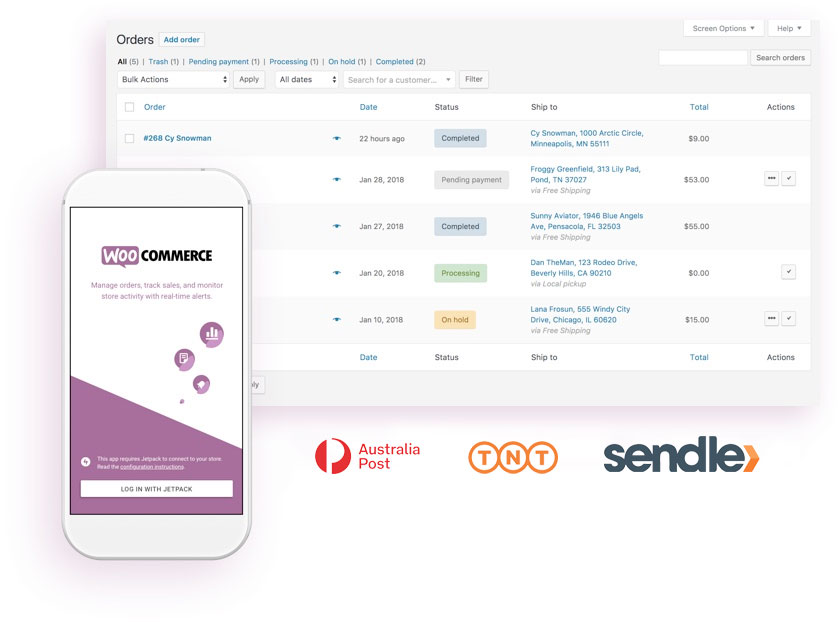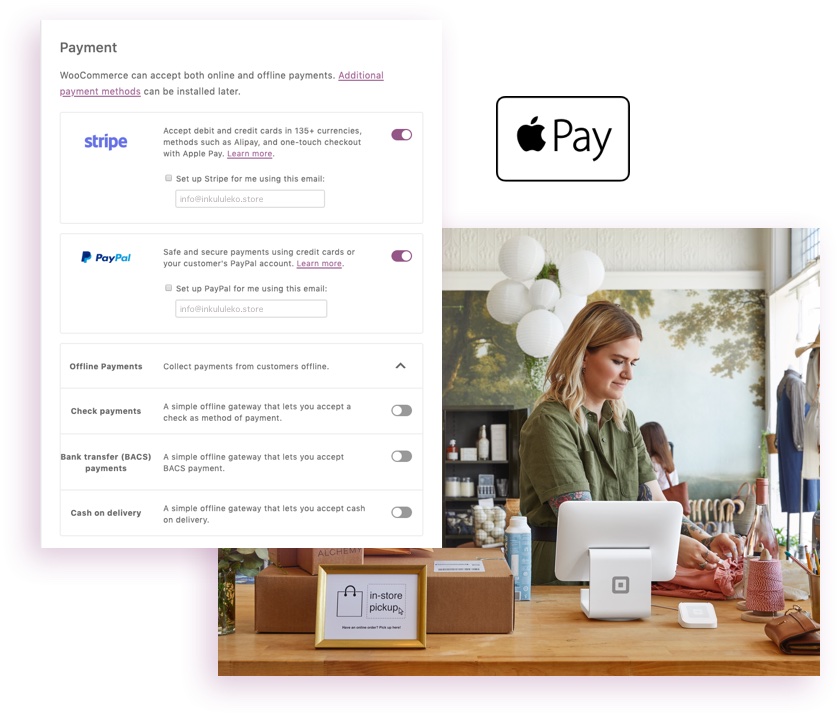 Take your online store to the next level.
We create bespoke themes, with a design tailored to your individual goals and vision.
A holistic approach to UX design, we carefully map out the customer journey to increase sales.
Extend your site with everything from accounting, to shipping, CRM, email marketing and more.
Process payments from Credit Cards,  Crypto and Buy Now Pay Later providers online and securely.
Professional SEO services to help get your WordPress site found online by Google and customers.
Cutting Edge Technologies
Robust front-end and back-end technologies help future-proof your website for years to come.
Do you want a share in the $28.6 billion Australian's spent online last year?
Contact our Brisbane web developers!